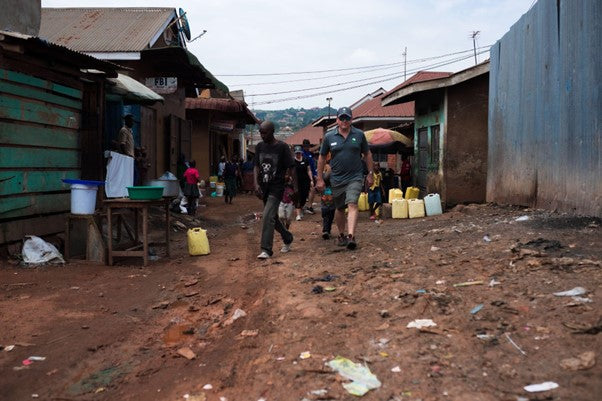 Blooming Gorgeous business owners Tracy and David, are travelling to Uganda in March 2023 on a humanitarian trip to help and support 
Kyampisi Childcare Ministries. Since Tracy and David learnt of the organisations mission they recognised the struggle and importance of this mission and are passionate about helping in any way possible.
A group of 33 compassionate and committed 
Australian and New Zealand business owners will be embarking on 
humanitarian trip dubbed,
Mission Abundance 2nd Edition,
to Uganda on the 
24th March to support the important work of Kyampisi Childcare Ministries 
(KCM) helps Victims of Child Sacrifice. In 2019, a prior group of business owners visited Kyampisi to support this 
cause.
KCM provides care and support to vulnerable children and families in the 
Kyampisi, Uganda community and is dedicated to improving the well-being and 
future prospects of the children it serves, including victims of child sacrifice.
The humanitarian expedition is spearheaded by Bruce and Georgie Campbell, the 
founders of the Entrepreneurial Business School (EBS) based on the Sunshine 
Coast. They initially became aware of KCM (Kyampisi Childcare Ministries) where 
a chance encounter in an airport led to an incredible partnership between two d
organisations with a heart for children. Peter Sewakiryanga, founder of KCM and 
Bruce Campbell, Director of Entrepreneurial Business School first crossed paths 
in Perth in 2018. Bruce was travelling for business and Peter was bringing a child 
to Brisbane, Australia for funded reconstructive surgery. They talked for hours 
about the needs required for the community of Kyampisi, Uganda and so an 
inspiring collaboration evolved. "I always meet angels in airports", said Peter 
Sewakiryanga.

This chance meeting had a profound impact on Bruce and Georgie, inspiring 
them to utilise their business coaching business and significant reach to focus 
their fundraising efforts towards the life-changing work carried out by KCM in 
Uganda.
"Our journey began with a bold dream to raise $10,000 and create a positive 
impact. Four years on, we have exceeded all expectations by reaching $1.82 
million and having made a significant difference in the lives of hundreds of 
children in Uganda. We do what we do, for the families we support here in 
Australia and globally", said Georgie Campbell
So far, Bruce and Georgie have greatly impacted KCM through their efforts to 
increase funding and visibility for the organisation. They have successfully raised 
funds from the Entrepreneurial Business School community and run a large 
auction event following a yearly gala dinner to support KCM. Additionally, the 
EBS community sponsors more than 306 children and also accompanies clients 
to Uganda to support the crucial work of KCM. This has resulted in the building of 
a 1250 sq metre Rehabilitation Centre, supporting the local primary school, the 
opening of a Medical Centre, and ongoing support for children in need. 
Child sacrifice is a deeply ingrained and harmful practice that continues to occur 
in some parts of Uganda. It involves the torture or murder of minors as a part of 
spiritual sacrifice promising blessings of prosperity or cures for illness. This 
practice is obviously unlawful, but due to extreme poverty, ignorance and fear, it 
is persisting. KCM is working with the Ugandan government to help end child 
sacrifice in Uganda and provides support to those who have been affected by 
this horrific practice through rescue and rehabilitation, education and awareness, 
community outreach, legal support, and long-term care.
The Australian and New Zealand business owners will spend 5 days at KCM, 
where a team of builders will continue construction of the Rehabilitation Centre, 
provide fun games and activities for the children, and bring much-needed 
donations of supplies and equipment. The group is also planning to hold a 
workshop for local business owners to help them develop their skills and grow 
their businesses. In addition, they will support a Medical Camp processing up to 
1200 men, women and children to receive free healthcare, funding medical 
professionals to service the community, for dental, optometry, and general 
medical. The town otherwise has very limited access to medical resources and 
advice, so this is a critical opportunity to help improve the health and well-being 
of the local community.
"We are thrilled to have the opportunity to visit KCM and make a positive impact 
on the lives of vulnerable children in Uganda, especially those who have been 
affected by child sacrifice," said Kara de Schot, one of the business owners who 
is part of the humanitarian trip. "We believe that business owners have a unique 
role to play in promoting social good for less fortunate communities, and we are 
proud to be able to make a huge difference in the lives of these children. Meeting 
them in person is going to be a once-in-a-lifetime experience."
Kyampisi Childcare Ministries is grateful for the support of the Australian and 
New Zealand business owners and is looking forward to their visit. "We are so 
appreciative of this group's commitment to helping us provide care and support 
to vulnerable children and families in our community, especially those affected 
by child sacrifice," said Peter Sewakiryanga. "Their visit will make a significant 
impact on the lives of many, and we are grateful for their generosity and 
support."
Entrepreneurial Business School leads the 
business coaching industry on a global scale, having coached thousands of 
business owners and entrepreneurs, both nationally and internationally towards 
life-changing personal and financial results
alongside supporting both domestic 
and international philanthropy efforts. The Head Office is located on the 
Sunshine Coast Queensland, Australia, with an international office in Hong Kong.